Jamf Cloud
Hébergement Jamf Cloud
Depuis 1 an déjà, l'hébergement du service Jamf Pro dans le Jamf Cloud à Francfort n'entraîne plus de surcoût par rapport à l'hébergement local "On Premise", hormis les frais uniques de migration ($1000). C'est pourquoi nous pensons judicieux de délocaliser ce service, afin de nous libérer des contraintes de mises à jour du système d'exploitation RedHat et du serveur JSS, ainsi que des sauvegardes de la base de données. La majorité des autres clients ont fait de même, notamment le CIPEO et les HUG.
Notre infrastructure On Premise requiert 2 serveurs virtuels RedHat (production + test) et 2 bases de données associées, avec toute la gestion que cela implique.
En la migrant dans le Cloud, seule la base de données comportant les fiches d'inventaire des appareils (Computers) sera délocalisée à Francfort, alors que le Point de Distribution des paquets demeurera intra-muros à l'EPFL.
Jamf garantit une disponibilité des serveurs de 99,9% (down < 8 h/y)
« Vous gérez l'inventaire, le déploiement ainsi que la sécurité des appareils Apple dans votre environnement, et nous nous occupons de l'infrastructure »
Jamf On Premise
Jamf Cloud

Base de donnée délocalisée à Francfort

Infrastructure Manager

Going to the Cloud with Jamf Cloud 🎬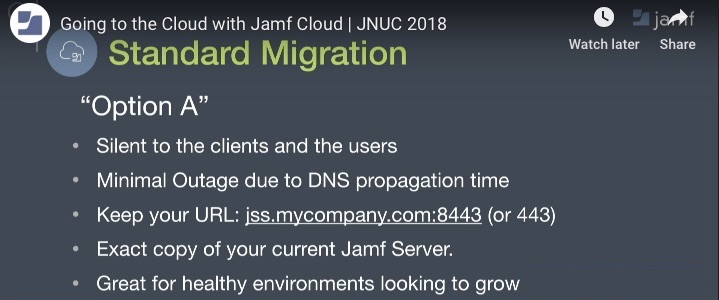 ---
☘️ Be green, leave it on the screen! Be kind, print it in your mind...
22 novembre 2019
This wiki
This page
Share