I have a previous Google @ epfl.ch account and can not log in anymore because of an alleged conflict?
I have a previous Google @ epfl.ch account and can not log in anymore because of an alleged conflict?
Some personal accounts use an email address "@ epfl.ch"; these are accounts that benefit from a license of "private" use, whereas the license for EPFL is more of an "education" use. For data protection reasons, Google does not provide the list of accounts affected by this problem and considers that these accounts are not part of the epfl.ch domain.
As a result, the newly created EPFL account may conflict with an existing personal account. This problem is due to the fact that both accounts use the same email address firstname.lastname@epfl.ch.
To resolve this conflict, we recommend you to rename your old account with a different email address (@ google.com). For legal reasons, Google prevents the automatic synchronisation of documents from EPFL accounts. Hence, you will have to sort out all of your EPFL-related data before importing them.
To get out of the conflictual situation, you must:
Log in to your personal account
Go to accounts.google.com
Log in in the personal account
Warning:
if you enter a wrong password, Google mistakenly returns you to Tequila. You must then restart the whole process from scratch.
If you wish to recover your password, an email will be sent to your EPFL account.
Updating your account
A conflict page appears. You are starting a procedure that will help you rename your personal account with a non-EPFL email account, like for example something@gmail.com. Please click on the First step button.
Updating your account - step 2
The recommended steps have no regards with EPFL. Please do not try to make data transfers as they have no regards with the Drive.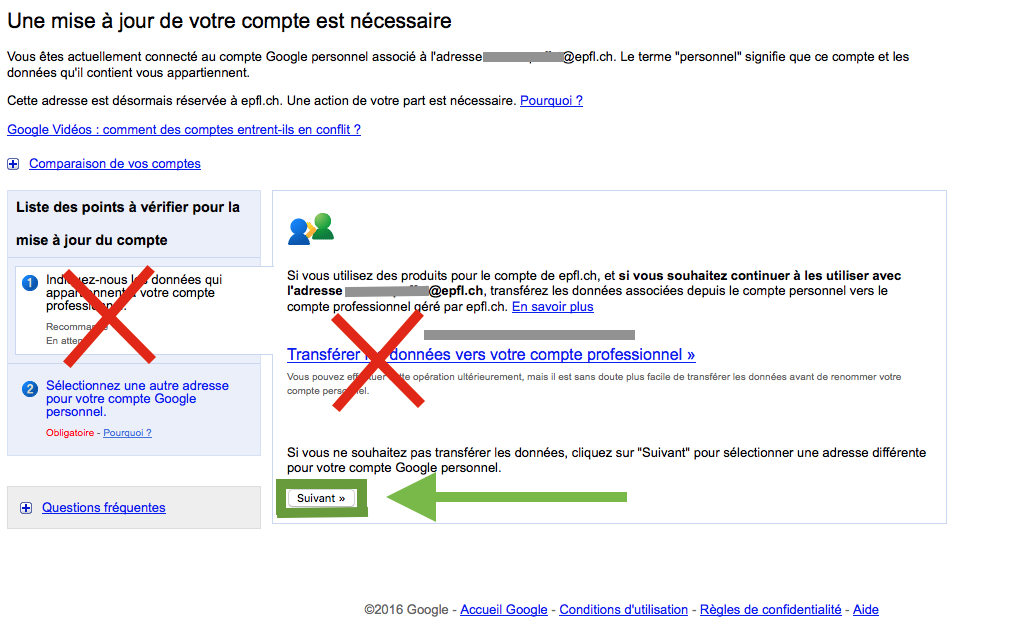 Click on Next and choose the option of creating a new Gmail personal account as a new default address. The latter will hold in all of your data, and the access will be made with the same password you use to connect yourself to your personal email account.
Once the conflict is solved, you will find that your EPFL account is using both your EPFL email (something@epfl.ch) and your personal email (something@gmail.com).
Document transfers between accounts
Please follow the procedure described below:
This wiki
This page
Share